Our environmental commitment
Respect for the environment, and its preservation, is more than a commitment. It is a gift we make to ourselves and to future generations.
Change begins with us. For that reason, our choices have always been guided by a commitment to a form of sustainable development that safeguards our standards of quality and safety. Everyone who works in our group shares these values, and they shape our decisions every day.
OUR MANUFACTURING SITES
We operate our manufacturing activities with respect for the environment. This begins with monitoring how we use raw materials, our consumption of energy and water and our emissions, as well as keeping a close eye on how we dispose of our waste and our energy efficiency. We have built our factories far away from protected locations and sites with high levels of biodiversity, and we have implemented systems and processes that protect the environment, the local area and the ecosystem. Our production plants mainly employ electric energy, steam and natural gas for cooling processes and heating and we are continuously looking at ways of reducing our consumption. Today, one third of the energy needed to power our factories comes from biomass. To produce paper, tempera paints, play doughs and chalks, we use water. We constantly monitor our consumption of this important resource using automated systems that can limit its use to the absolute minimum.
THE INGREDIENTS THAT MAKE GREAT PRODUCTS.
At our facilities, we carefully select the raw materials and promote the use of raw materials from renewable sources with a low environmental impact.
The principal prime materials we use include wood, for pencils, coloured pencils, canvases and fibres for paper, plastic, for pens and felt tip pens, highlighters, accessories and containers, starch and flour, for papers and modelling pastes.
We have applied a sustainable approach to product development by introducing an internal protocol which establishes the implementation of solutions aimed at:
promoting the use of raw materials from renewable, sustainable sources
reducing packaging materials
using eco-friendly packaging
continually improving the performance of the products to increase their longevity and reduce waste
while complying with all safety legislation and guaranteeing top-quality products to our customers.
CLICK ON THE TOPIC BELOW TO DIG DEEPER AND DISCOVER MORE.
Wood from responsibly managed forests >
Plastic: an issue close to our hearts >
Every painting or drawing needs good paper >
Better quality means less waste >
A watchful eye on packaging >


Wood from responsibly managed forests >
Plastic: an issue close to our hearts >
Every painting or drawing needs good paper >
Better quality means less waste >
A watchful eye on packaging >

Forests face a number of climactic, ecological, man-made and socio-economic challenges. Forest conservation involves coordinated management between the various operators. The certification chain for the source of the wood guarantees sustainable forest management and while biological diversity, forest renewal, natural catastrophe prevention, key habitat protection and a reduction in environmental impact due to forest exploitation will be ensured for future generations. Certified forests should fulfil their economic, ecological and social functions without compromising other ecosystems. Growing trees convert carbon dioxide into oxygen for us to breathe, helping to reduce and limit the greenhouse effect. Responsible consumption of this resource is fundamental for the survival of our planet.
The wood goes through several steps before reaching you. The production chain is long and complex and must be documented throughout the entire process, from the tree to the finished product. For this reason, each link in the chain is essential to guarantee traceability through certification, which is why FILA has already introduced the use of wood and fibre from forests managed responsibly, correctly and sustainably.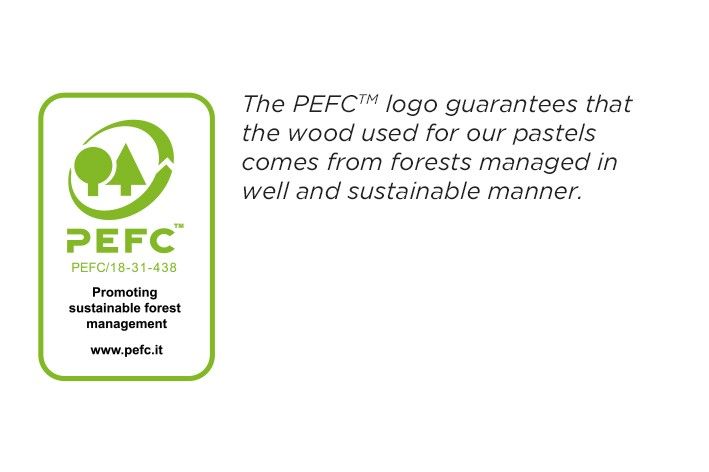 Since the last century, one of the woods commonly used to produce our Lyra and Giotto pencils and coloured pencils is California incense-cedar, which, as well as historically being one of the most suitable woods for pencil-making, has long satisfied strict sustainability protocols: Programme for Endorsement of Forest Certification schemes (PEFC). The incense-cedar wood comes from the forests of California, where new trees are planted in the place of harvested mature trees, thus creating the next generation of the forest. Harvesting cycles are at lengthy intervals and involve cutting only a small percentage of the existing trees, according to clearly defined rules for maintaining biodiversity and promoting a natural mix of flora and fauna to allow the survival of animal species, including those which are endangered.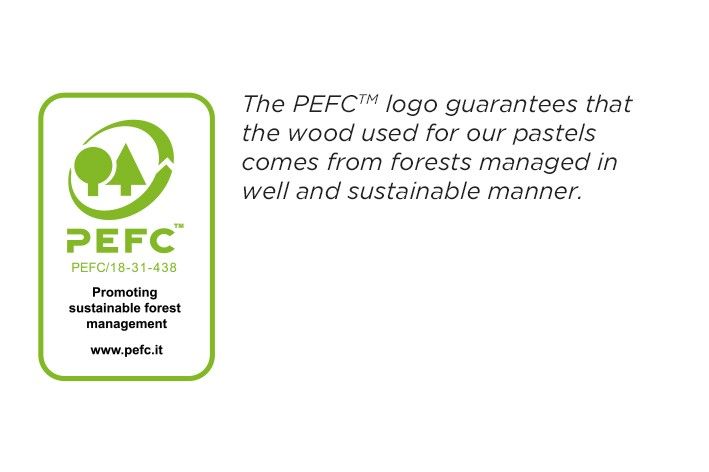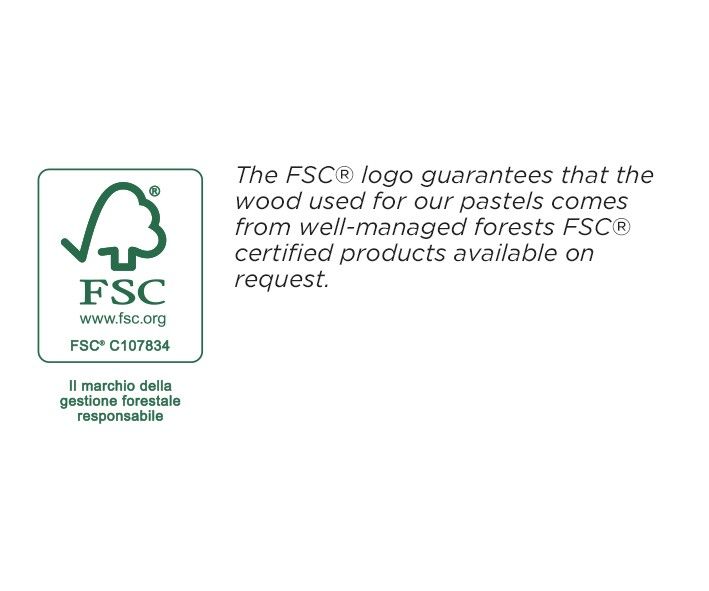 In this case, the FSC® (Forest Stewardship Council ®) label certifies the Chain of Custody.
In order to reduce waste, a system for the recovery and reuse of wood waste is in place – waste from cuts which are a necessary part of pencil production – and in a move towards a circular economy, some of our ranges of pencils and frames for canvases are made with wood waste recovered through an industrial process.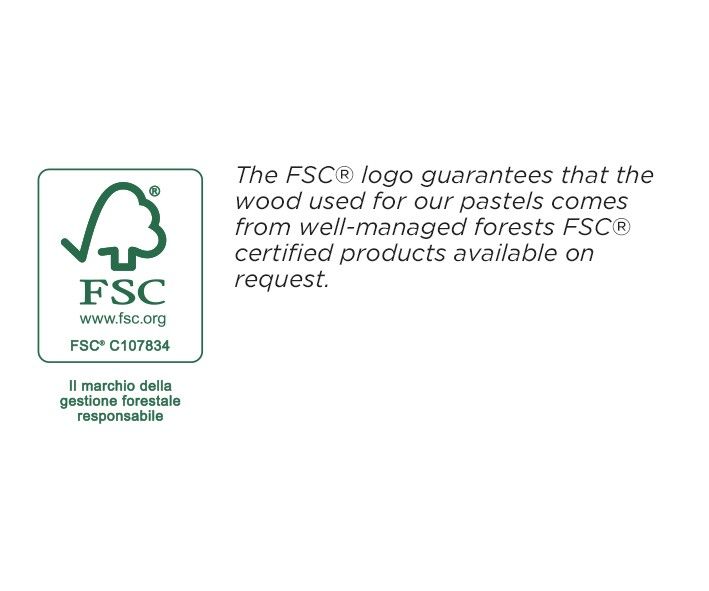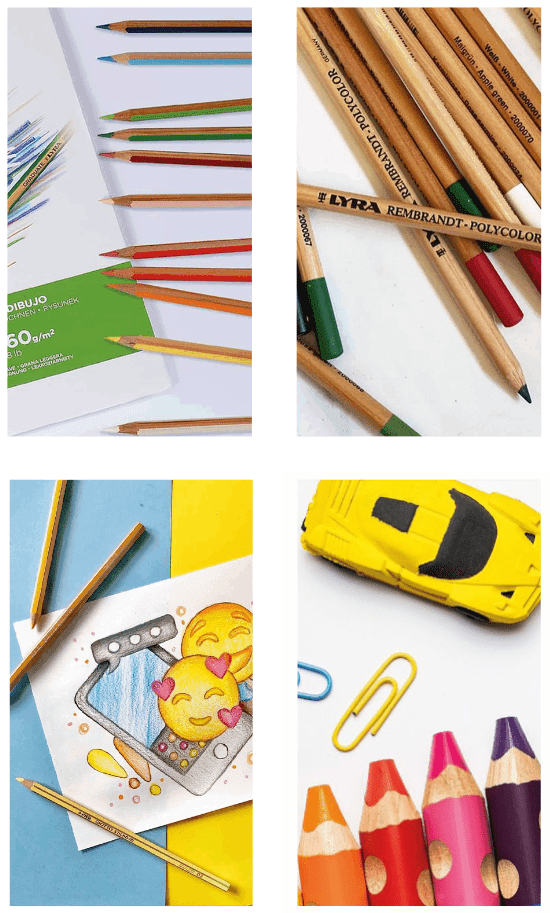 Plastic is an essential raw material for guaranteeing the functionality, safety, longevity and cost-effectiveness of many products. There are many different types of plastic and each one offers properties which ensure the functionality of the product itself.
Most plastic currently available on the planet still comes from fossil fuels (oil) and is used in a wide range of sectors to make the many objects, items and components which we come across in our daily lives.
BIOPLASTICS
Over the last few years, research into innovative solutions in the field of bioplastics has experienced significant growth. Bioplastics are divided into two broad groups:
bio-based plastics* which help to reduce CO2 and which are made with a renewable, non-fossil resource. This family includes non-biodegradable bio-based polymers such as bio-based PE, bio-based PET, bio-based PA, bio-based PU, and so on.
biodegradable plastics produced from organic material or based on biodegradable synthetic polyesters which can break down quickly in the environment, in part due to their reduced thickness. Some examples of biodegradable plastic include those derived from cornstarch, wheat, tapioca, potato, potato starch or vegetable scraps such as potato peel. These plastics are now widely used to make grocery bags and bags for kitchen waste.
In our research and development departments, we study and test bio-plastics to understand their possible application for our products, the sustainability of their production, and the performance of the finished product.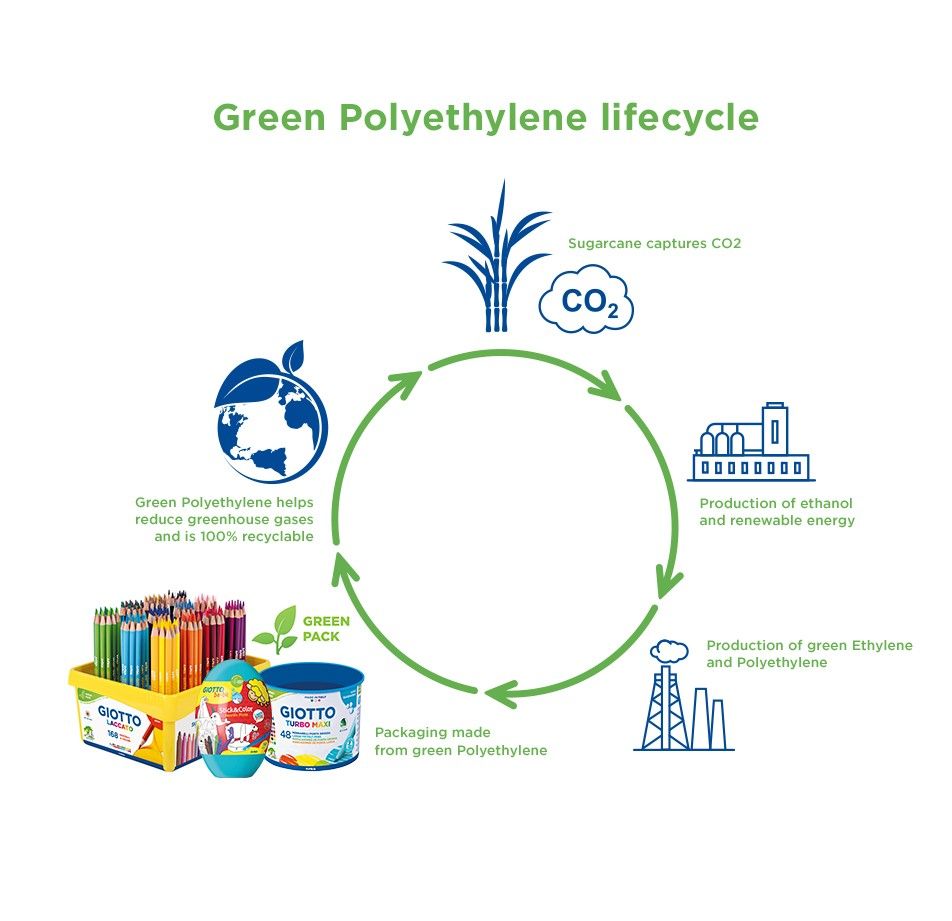 To date, bio-based plastics from vegetable sources have proved to be of particular interest as a substitute for fossil fuel based plastic in some of our production processes. Specifically, in 2019, we successfully introduced bio-based plastic – a material derived from the processing of sugarcane – for the mass production of durable and semi-durable items such as "schoolpack" containers and tubs used at school to hold pencils and felt-tips, or play items such as the recent plastic eggs aimed at younger children which contain crayons and play dough.
*The renewable component or bio-based content in our products is scientifically proven and can be measured using the percentage of the 14C isotope, which is not present in petroleum plastics. The standard test method for this is ASTM 6866 which "determines the bio-based content of solid, liquid and gaseous samples using radiocarbon analysis".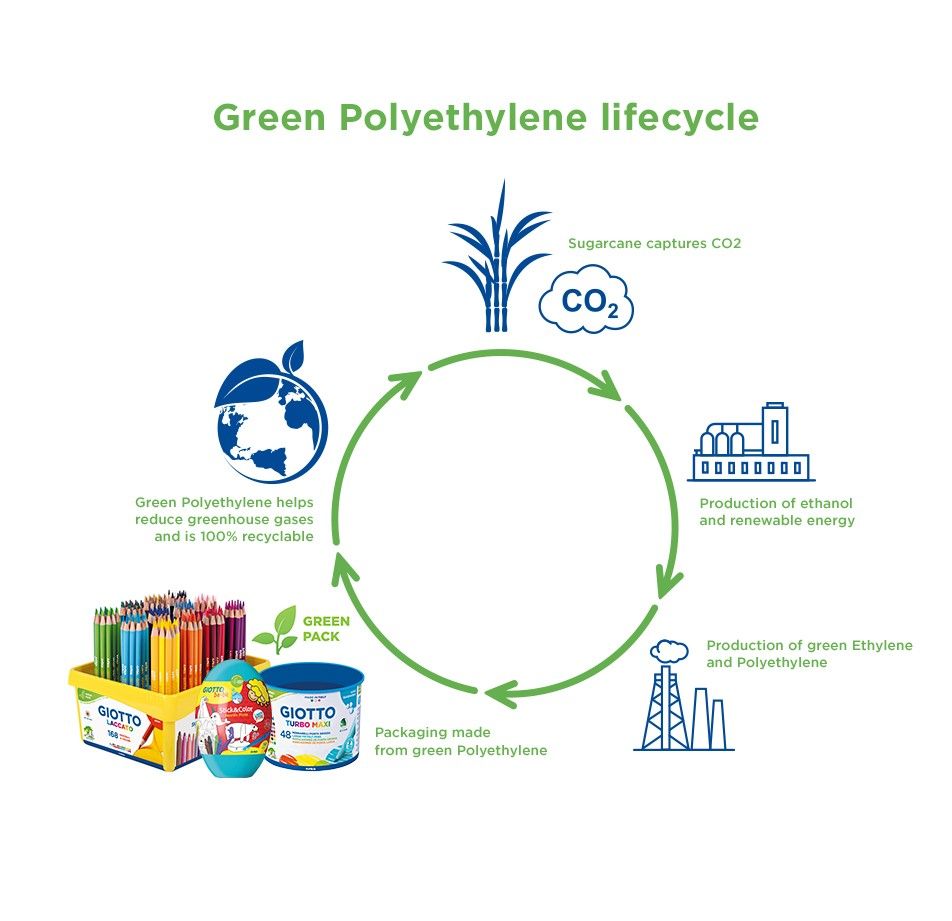 Lastly, in terms of bioplastics, we substituted all our glue and poster paint containers (250ml, 500ml and 1000ml), previously made with fossil fuel based PET, with vegetable-derived BioPET.
These eco-friendly containers retain their product-preserving qualities and can be recycled as plastic after use.
PRE- AND POST-CONSUMER RECYCLED PLASTICS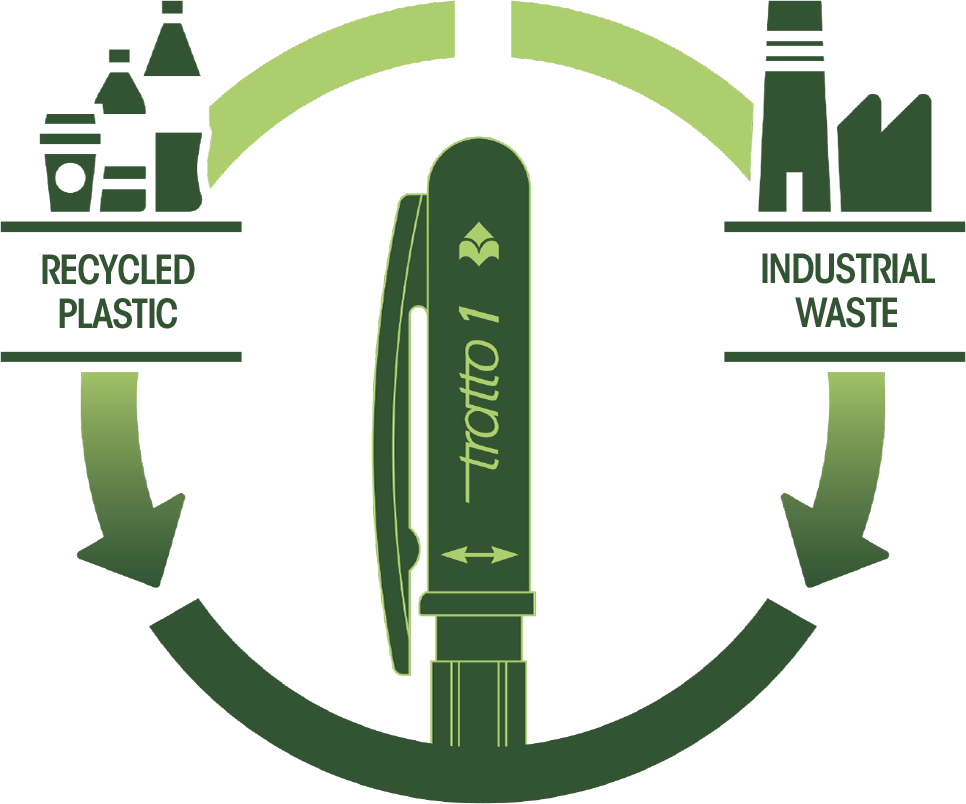 Another study undertaken at the Italian facility of Rufina (Florence) on the possible uses of
pre- and post-consumer recycled plastics made it possible for us in late 2020 to industrialise polymers comprising secondary raw materials and byproducts – plastic materials deriving from the recovery of end-of-life waste, such as pre-consumer industrial waste, and from industrial plastic scrap and production waste, respectively.
These materials, which fulfil the requirements of quality and traceability for the development of our items, have replaced the virgin raw materials used to produce all the bodies and caps of our Tratto1 ballpoint pens. Now available only in the "green" version.
The world of eco-plastics is a constantly evolving one, and our commitment to testing and researching new sustainable solutions in line with the philosophy of the circular economy – for the recovery of waste materials and the reduction of waste – paves the way for new applications of these materials and their gradual increased use, compatible with their suitability for the Group's products.
Water is the principal natural resource used in paper production.
Canson® paper manufacturers, founded in 1500 and now part of the FILA group, use the pure waters of the Ardèche basin in France. The quality of the water supply is a priority for us. The rivers around Canson® have been rated category 1 (classed as "excellent quality") by the French water board, the Agence de l'Eau.
We do not use optical brighteners or chemical substances to make our paper and the absence of toxic substances in the production process is essential for two reasons: a lower environmental impact and the survival of works of art down the centuries.
The raw materials for Canson paper for students and artists, like the Giotto paper produced at the Canson paper mill, use fibres from an FSC® certified chain and a biomaterial, starch, essential for increasing the paper's resistance to ripping and tearing, for bonding the surface through sizing, and preventing the occurrence of dusting. Find out more at canson.com
Longevity and performance are both aspects which influence waste reduction: we follow this philosophy in everything we do, every single day. To give just a few examples: our felt-tip pens last longer because we choose fibre tips which are both soft and durable, retain their shape, and allow the ink contained in the reservoir to be used up completely. The felt-tip pen inks have bright colours and do not dry out even if the cap is left off for several days. The pencils and coloured pencils are made with highly pigmented solid cores which deliver instant colour to the paper, while wearing down slowly. The glue sticks do not disintegrate, are compact and deliver just the right amount of glue to the paper for optimum usage; the poster paints are rich and concentrated and a small quantity offers excellent results; the pens, highlighters, and markers have a large ink reservoir and will last for a long time.
The choice of materials used for packaging is another crucial aspect for a sustainable future which is why: we are gradually reducing packaging to the bare minimum, compacting it to reduce its environmental impact for a reduction in waste and emissions due to the transport of the products. We seek out environmentally friendly solutions for our packaging, promoting the use of card, preferably recycled. We are gradually reducing the plastic packaging used, to ensure product integrity during transport and in store. We are gradually replacing fossil fuel based plastic with other materials such as recycled
R-PET plastic for bags and blister packs.