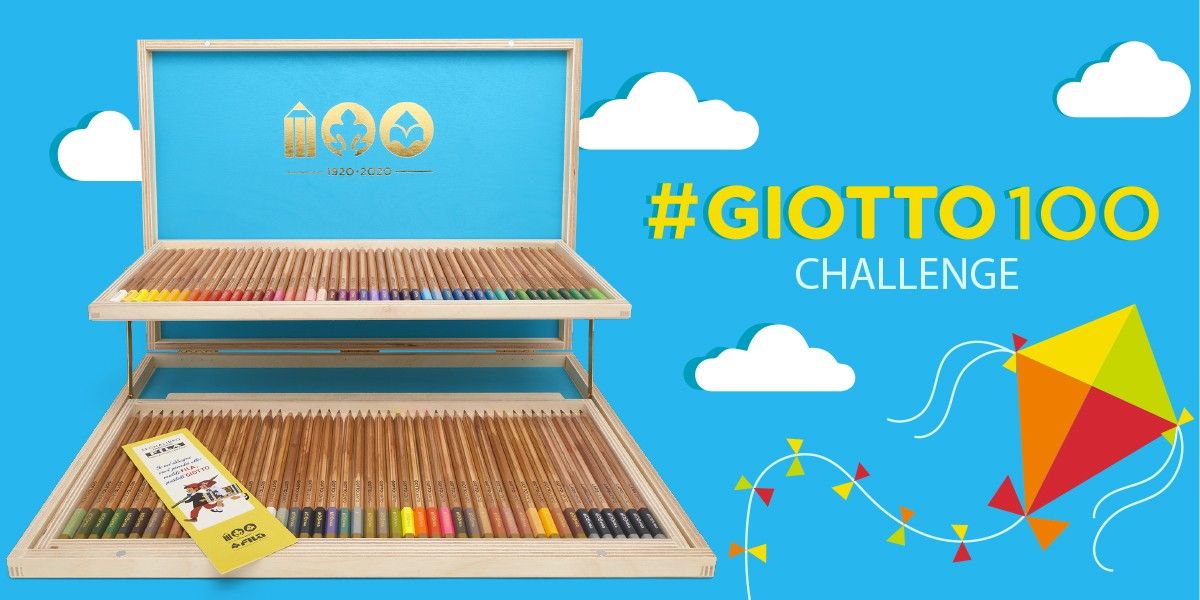 Watch the video tutorial and create your own kite to participate at the contest!
General Rules
#giotto100 is a global contest held on Instagram by F.I.L.A. Fabbrica Italiana Lapis ed Affini with its brand Giotto on the official global Instagram page @giotto_fila, in the 100 th year of the company.
#GIOTTO100 is by no means sponsored, endorsed or administered by, or associated with Instagram, and is promoted by F.I.L.A. SPA on @giotto_fila Instagram profiles.
The contest is aimed to the realization of a kite following the tutorial published on @giotto_fila page on July 7th 2020.
This is a global contest open to whoever is willing to participate, in any country with no exceptions, provided they hold an Instagram account in compliance with Instagram rules and terms of use.
The participants are asked to create one or more kites, with their own means and taking advantage of their creativity, drawing inspiration from the tutorial published by Giotto on the IG Giotto_fila page the 7 th of July 2020.
To participate at the contest, the users are asked to publish their artwork on their personal Instagram page mentioning @giotto_fila and tagging in the caption the official hashtag #giotto100.
Any content lacking one or more of the above elements will not be considered eligible for participation.
To be eligible for the contest, the artworks must be posted on a public account.
The entries must be original works and realised with fantasy, recovery materials and colours as in the example presented in the tutorial. Be creative and decide on the dimensions, colouring techniques and decorations as you wish.
Works portraying offensive, discriminating images, and/or anything which does not comply with F.I.L.A. Group ethical values, will be rejected.
Works containing images or showing the recognizable presence of competitor brands and/or competitors' products will not be admitted to the contest.
The ENTRANT shall retain all copyrights held over his/her artworks. However, through participation in this competition the ENTRANT and/or WINNER expressly grants the FILA's subsidiaries social profiles the right, worldwide and without restriction, to use, reproduce, exhibit, republish, transmit, distribute, represent, make technical adaptations with a view to achieving higher image quality, make publicly available, communicate to the public, or translate in part or in full any artworks provided by the ENTRANT for the purposes of promoting this competition.
If another person or persons other than the participant appear in the photograph or video submitted to the contest, the participant declares having previously obtained the transfer of their image rights or their express or unequivocal consent for their name or image to be published, disseminated or exploited in the terms indicated in this document.
The contestant is directly responsible for the veracity, accuracy, timeliness and sufficiency of the manifestations related to the transfer of the image or intellectual property rights of third parties that appear in the photograph / video that is submitted to the contest, exempting FILA of the consequences and damages that your declaration may cause you inaccurate, false or erroneous.
FILA declines all responsibility for the consequences that the voluntary, consensual and deliberate exhibition by the user of his photographs or videos and those of his family environment may affect himself, his family, friends and / or relatives, or other third parties , or the dissemination or exhibition of the same by you or by third parties, or their reproduction, including on other web pages, blogs, social networks or in any other medium, support or modality of digital exploitation or not, online or offline.
FILA Fabbrica Italiana Lapis ed Affini reserves the right to resolve, according to its interpretation, those aspects not covered in these bases.
Contest mechanic
The contenders must publish their artworks on their personal Instagram feed mentioning @giotto_fila and using the hashtag #giotto100.
They are free to publish them also as stories, to allow their sharing by @giotto_fila profile, but only the artworks present in their profile will be considered valid for participating at the contest.
Every week, @giotto_fila profile will repost a selection of the 6 best entries received by the participants, but all received work will be included in the contest.
While this publication does not imply a greater possibility to win the contest, it will nonetheless testify that the shared artwork fully satisfied the requirements of the contest.
These contents will be reposted as a gallery and gathered in a specific section of @giotto_fila Instagram Pages stories highlight.
Awards
The contest will award 100 different winners among those received by the contenders.
The 100 winners will be selected by Giotto global team on the basis of their ability in meeting the contest goals, both under the point of view of the quality of the realisation and of creative expression.
The winners will be awarded with the exclusive wooden case Giotto Centenario, realised in 1.000 limited, numbered pieces to celebrate the FILA anniversary and these are not available for sale. The special case contains 96 Giotto Cento coloured pencils and 4 graphite pencils Lapis Cento – pencils are realized with superior quality lead with a diameter of 3.8 mm, and produced with recycled cedar wood PEFC certified supply chain.
Contest timing
The contest will start on 7th of July 2020 with the publication of the tutorial and will close on the 7th of September 2020, 6pm CEST. Every content received beyond this due date will not be eligible for participation.
The winners will be declared on @giotto_fila Instagram Page on Monday, the 21st of September 2020 and contacted through direct message by the organisers of the award. If no answer will be received from the winners, the awards will be kept of a 3-months period. After this timespan, it will not be possible to receive the prize.
The shipment will be managed by the organizers and the delivery will be made within 90 days form the declaration of the winners.